Wedding Photographer
I'm Arno a Ibiza based, international working celebrity, people and event photographer. Living in this beautiful place where people usually just come on vacation. I'm so blessed to say I live in paradise!
Since my childhood I am passionate about photography. I have been capturing wedding images since 2008 as well as shooting many corporate events and concerts. I speak German, English and Spanish.
I like to surround myself with my wife and my 5 cats. My wife Angela and I met and fell in love in 2002, we like to travel a lot, have had countless unbelievable experiences in different places, are fascinated by people and cultures, and got married on the beach on Hawaii in 2011. Ibiza is our home in summer and in winter, when we travel we have many dear friends and acquaintances who look after our cats all day.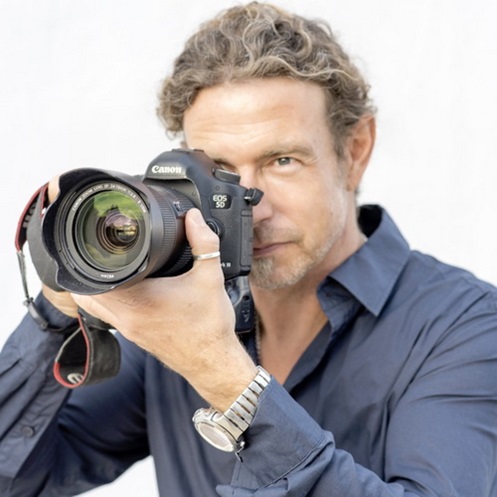 My wedding photography is vibrant and informal. I aim to capture the personalities of each couple and their guests. I photograph each unique day as it unfolds without interfering. My photography is true documentary reportage – with an editorial approach. Nothing is staged while I am capturing real moments. Using long lenses where possible, I work unobtrusively and discreetly. Far from being a chore, the portrait sessions are fun and playful. My wedding couples appreciate the modern mix of reportage, contemporary and editorial wedding photography.
My photos are about capturing the connection between two people in love. Instead of talking a lot about myself, I prefer to let my photos speak for themselves. Contemporary wedding photos with fashion and editorial elements. If you like my unique reportage style, let's get the conversation started!
Magical Connections
Fascinated by photography all his life, Ibiza-based photographer Arno Lippert began his journey with the lens at the tender age of 13, when his parents gifted him with his first analogue camera. Today, Arno is a self-taught creative mastermind with a profound passion for Ibiza wedding photography.
Arno desires to illustrate the magical connection between the bride and groom through his editorial-style, contemporary imagery. His passion and enthusiasm guides you through your day, capturing candid pictures in addition to group shots with a fun, modern twist. Arno's priority is authenticity; capturing the unique personalities and emotions of the bride, groom and their families and friends.
From one-on-one mentoring with Germany's most high-profile photographers to shooting A-list celebrities like Fanta4, Rea Garvey, Elton John, Sting, David Guetta and Lenny Kraviz, Arno understands it takes creativity to get the best shot. From ground level to rooftop Arno uses a variety of long lenses, drone footage and different angles paired with beautiful editing and custom filters, with an array of photo packages available to match any budget.
Having also shot weddings in exotic locations including Hawaii and Santa Monica, Arno believes Ibiza holds endless inspiration as a destination wedding location. Working unobtrusively and discreetly on the day, his calm natured style means you'll barely notice he's there throughout the day, but feel confident he's got your happily ever after memories under control.